Street Religion – the "total package" creative studio
An Interview with Jochen Stuible and Svenja Müller, owner of the Berlin based label for visual culture and videography Street Religion
Text: Paulina Tsvetanova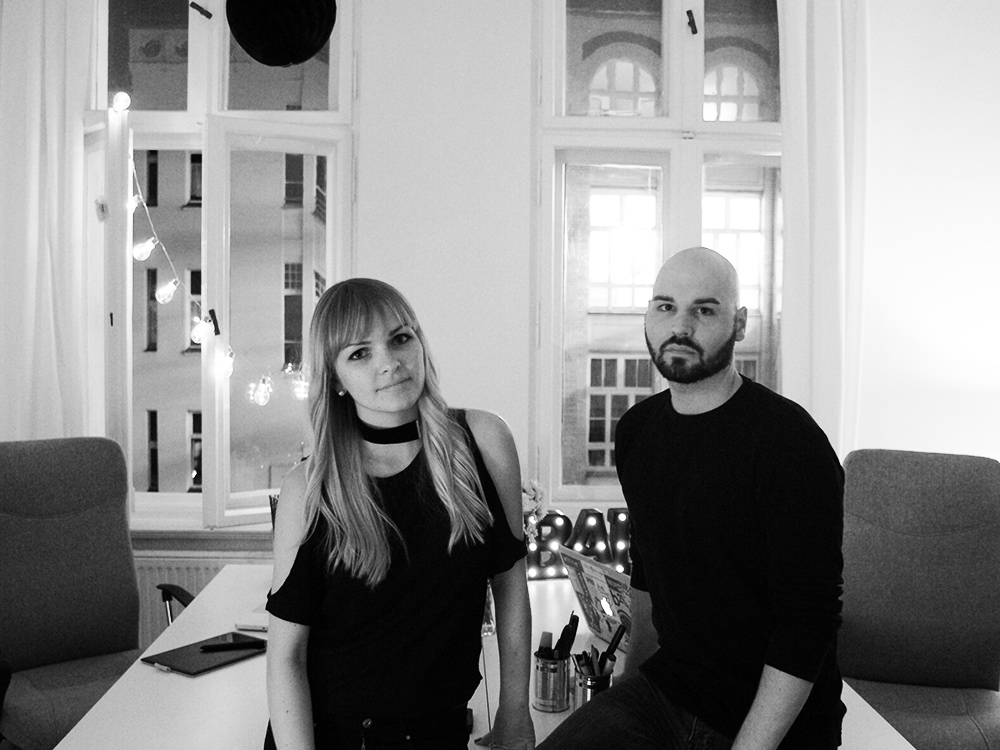 Dear Jochen, dear Svenja, how would you describe your agency Street Religion?
We are a young and hungry videographer duo looking for creative challenges mostly in the field of fashion films. We love to work with creative people who inspire us for every individual project. We fell in love with fashion films, but we also like to produce music videos, setcard videos for models or short documentaries about the artist next door. We are the creative studio for creatives!
What about your corporate philosophy?
To be a one-stop shop. We are the total package in the film business. We develop the concept, we film, we cut, we edit, and we compose unique soundtracks for every project – we hate lame stock music. The fact that it's just the two of us is a guaranty for our clients that we do everything ourselves and that everything is conform with our quality expectations. That's why we work on new ideas on a daily basis – for our clients and also for ourselves.
When did you found your company and what was your fundamental motive to become an entrepreneur?
Back then when we were still working in advertising agencies we already worked on some side projects. When we were traveling around the world in 2015/2016 we decided that we don't want to go back to Germany to work in someone else's agency. We founded Street Religion in 2014 and since the beginning of 2016 we are officially Street Religion Berlin.
Where does the name "Street Religion" come from, is there a personal story behind it?
Jochen came up with it in 2014 while taking a shower. At that time we wanted to create an urban design and travel blog. But as we knew this wasn't the first design and travel blog. So we weren't very passionate about it. When we started to produce our first projects we were known as Street Religion by all of our friends. So it was obvious: We'll name our studio Street Religion.
Is design your religion? 🙂
Yes and no! To make a confession of faith and say no to every other "religion" does not feel right to us. But we can say that we live for design. We love design stuff from apple products to graphic design posters. And yes, we are that kind of people who are carping at bad typography in menu cards at a restaurant. On our website you can read a much longer text about that topic where we call Helmut Newton or Jean-Michel Basquiat our prophets. Besides that Jochen is always interested in learning more about every traditional religion.
Jochen: Yes, spiritual topics explain a lot of conflicts to me. And I think that it's very important to learn as much as possible – especially as a designer. You need to be aware of what you do and design, because of the different symbolics and interpretations of any religion.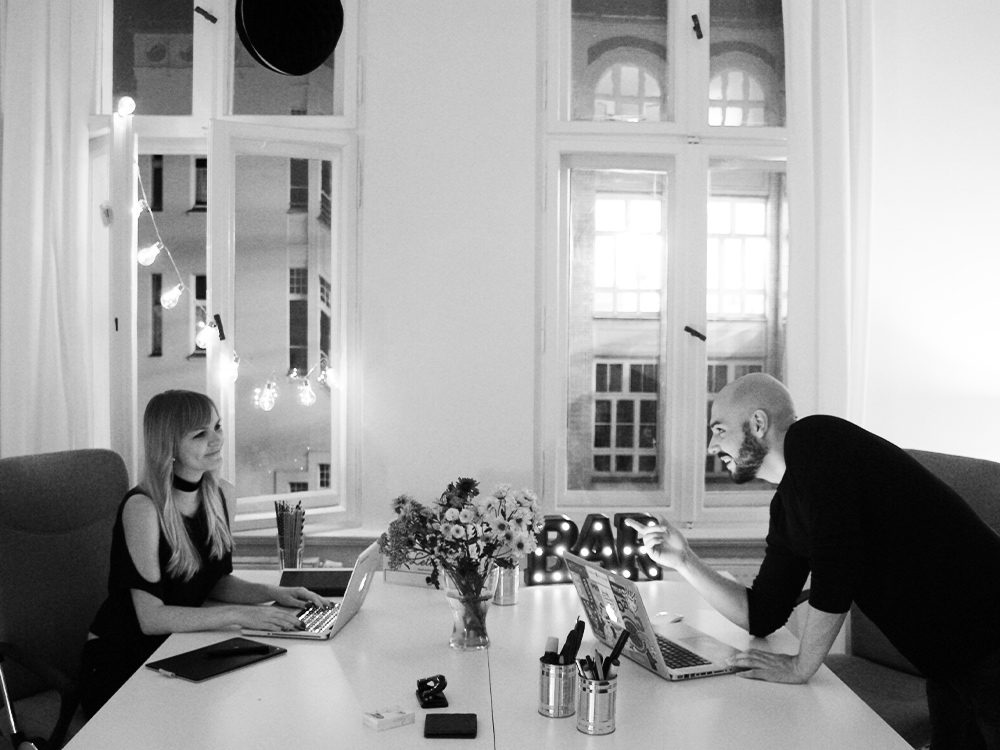 Your range of services includes…
Fashion films, Music videos, Model / Setcard videos, Café / Bar promotion, Corporate videos, Short documentaries, Behind the scenes / Making of, Event films, Advertising, Social media content, Animations Clips, Animated info graphics, Animated logos. And everything else that's nice!
Please tell us more about your background and your professional careerer?
After we both graduated from high school (Svenja in Koblenz and Jochen in Bietigheim-Bissingen) and we didn't even know each other, we both applied for a place at university for communication design. But we both were rejected. Jochen then got a place at the Baden-Wuerttemberg Cooperative State University in Ravensburg to study media design. For a start Svenja decided to move to London for a while. After that she also decided to study media design in Ravensburg, where they offer a dual system. You work for three month in an agency and you study for three month in Ravensburg – and this in turns for three years. That's where we met and became a couple. After three years of studying, four different residences and three advertising agencies we wanted to travel. We traveled and worked around the world and decided to move to berlin after that. Now we are very happy, that the first universities rejected us. Otherwise we wouldn't have met each other. And we know that every big artist or designer failed several times.
In your opinion, what should be changed/improved in the media design education?
To study media design at the Baden-Wuerttemberg Cooperative State University was great. We really had a lot of fun and learned so much about the whole design scene and what it means to be a designer. There is not much to improve, but it would have been nice for us, if there were even more talks and events about getting self-employed. So many designers work as freelancers or are self-employed and need to figure out how everything works on their own. And that costs a lot of time and energy.
What does your daily routine look like?
Almost like everyone else's. We work, eat, sleep and really enjoy our free time and love to spend our evenings and weekends at a food or design market, in a bar or at the cinema.
You are a couple. How do you manage a reasonable balance between your private and professional life?
You just need to find the right partner. On our world trip we spent every day and night together, with a break of only three hours. If you don't break up after that you can get through everything together. Very important: If you can't argue about something you can't work together.
Do you live your life's dream and calling with Street Religion?
It's quite to early to answer that question. Get back to us when we are 70 :).

Which activities are most fun, and what are your biggest challanges?
We enjoy projects the most when we know that the client trusts us. Clients who know that we are good at what we do and produce our videos for a fair price. Our biggest challenge is to find those clients. We really want to build good and long-term costumer relations. You know working with friends is the best thing you can do.
Tell us something about your customers…
Our clients are mostly young and creative companies or brands. We work for people in the fashion industry but also for musicians, artists, bar owners, cafés and now and then for a commercial enterprise. We are open minded for any kind of project unless it is a very boring one 😉
Which distribution channels do you use in order to reach your customers?
80% digital – 10% personal – 10% word-of-mouth advertising. But we would like to network a little bit more in the future and would rather like to do a lot of collaborations then spend our time with costumer acquisition.
You create for every single customer not only special videos/films but also music? Is this your USP?
Yeees! Music is a very important part of a good video. And unfortunately a lot of people don't really get that and they just buy any kind of stock music for their pricy video productions. We can offer a completely customized song for every project. For example: When we work for a fashion designer who designs necklaces we can record the sound of them and integrate it in the song. That's how the designer's work also creates the sound design. Cool, right?

How do you manage to separate yourself from the "generation blogger" crowd?
Nothing! Yes, we are a creative studio for video productions but we're also a kind of bloggers. We constantly use Instagram and Snapchat and you can also fing the category "Blog" on our website. There you can watch episodes of our series "Street+Berlin" where we visit galleries and events in Berlin. The topics are design, fashion and art. In 2016 you got so many opportunities to show who you are and what you do, you just can't sit around and do nothing.
If you had to produce a short film about Berlin, what would it look like?
Probably it would be something about an angry cyclist. They are everywhere, they are crazy and they don't have any kind of humor.
What do you wish for Street Religion's future?
Nice and inspiring clients who love their own brand like we love Street Religion. And who are up for creative projects. We want Street Religion to be a well-known name in the creative scene.
Thank you very much for the nice intherview, dear ones!
Thanks for having us!