Haute Presents: die Kunst der Inszenierung
Interview: Paulina Tsvetanova
Maxine Noth is the founder and managing director of Haute Presents, the couture of the art experience. This summer and autumn, Paulina's Friends will host two exhibitions with Haute Presents artists Ildikó Buckley and Brandt Parker. We spoke with Maxine about her innovative concept.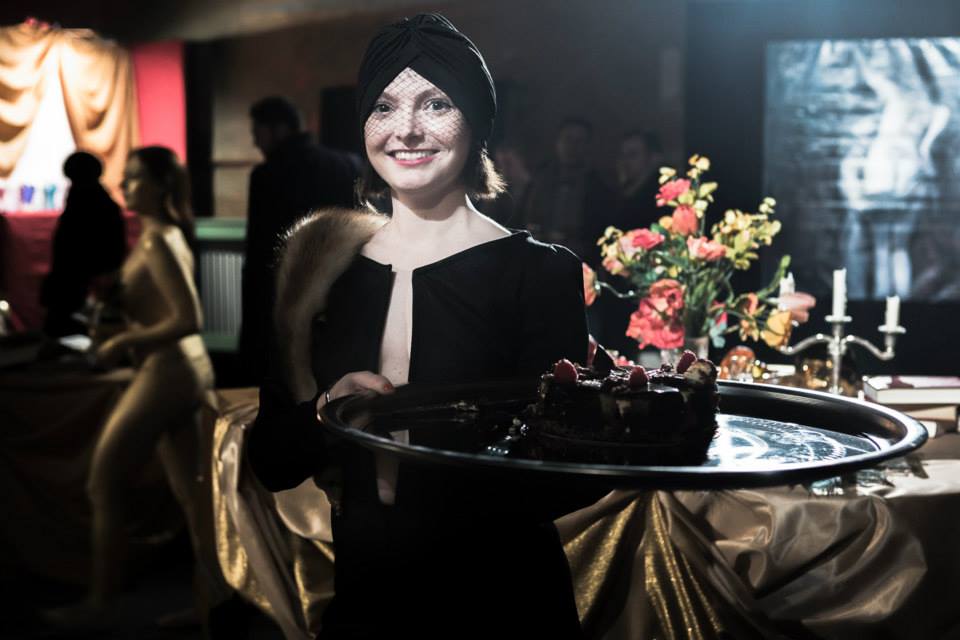 Dear Maxine, how did it come to Haute Presents? Tell us the story behind.
I moved to Berlin immediately after I had finished my Masters in History of Art back in London where I am originally from. I came with the wish to create a more immersive way of engaging with art that breaks down the boundaries of the traditional white cube aesthetic. Throughout the course of my studies, I was met with statements such as 'I don't understand art' then people would shut down, which I found to be a depressing sentiment. I don't personally think art exists to be understood, it is to be enjoyed or provide relief in some way, so my grand idea was to inject some fun into the world of art through different media that would entice a larger and more mixed audience. It was important to me to provide a platform for emerging artists. It's hard to get a foot in without personal connections in the industry and a lot of talent is dismissed as a result. Every Michelangelo, Picasso & Warhol were unknown emerging artists at some point. It excites me to back the potential for the unknown to become known.
What is your USP?
The heart and soul of Haute Presents is getting art out to people who are intimidated by the traditional white cube aesthetic. Everything we do is completely tailor-made to each event, making each one unique and very personal as we work directly with the artists and artisans. The element of fun is crucial to Haute Presents, offering a opulent yet warm environment where everyone is welcome.
You are all in one – art historian, curator, event manager, art consultant, performer. What about your education?
I've always loved art. Some of my earliest memories are trailing around museums with my mother. I was always drawn to modern art, particularly pop art. I had terrible eyesight growing up yet refused to wear my glasses so, in hindsight these wonderfully bright pieces were probably all I could see! It was in my teens that I fell in love with the subject history of art. It gives us an insight to the world around us through creativity. Essentially, a key-hole into life through pictures!
I went onto University College London where I completed my BA and MA. I've been blessed with incredible teachers who I think make all the difference. I credit a lot to them. Education is key and unfortunately has to still be fought for. Education doesn't stop at exams or degrees, nor should that be the sole focus. One should be inspired by and actively learn from the world around us.
What do you give your passion and enthusiasm most for?
It's telling a story and opening up new dialogues to expand the parameters of art. If I have intrigued one person who would not normally have been interested or would normally be intimidated by an art event, it gives me huge pride and satisfaction. Kids actually have the best insight. They have a raw honesty and wide eyed earnestness that is infectious as well as humorous.
Your criteria for selecting your artists, designers, artisans?
Haute Presents is multidisciplinary, so there is a wide range, though I tend to lean towards the kitsch, the colourful and the macabre. Photography, performance and paintings being my favourite mediums.
My first ever event was an open call on Craigslist where I met several artists who I continue to work with. Through word-of-mouth, the event snowballed and Haute Presents was born. Art fairs are another favourite place to discover emerging talent and of course social media. Instagram is my personal favourite as it is an ever expanding open catalogue and community of creativity.
It's only now, 3 years on, that I've been working with individual artists more closely rather than group shows. Brandt Parker with our wearable art collection and Ildikó Buckley and her archival analogue photography piece '#1872Photographsof 2015,' are examples of these and both which will be showcased at Paulina's Friends.
In your online boutique you promote not only contemporary art, but also "wearable" art – jewelry, accessories, clothing, books. In your events the music, cuisine and costumes play a big role. Where is the border between art and real life?
Artistry is everywhere; from a beautifully composed canvas to a perfectly mixed drink.
The Bauhaus movement is very influential to my practice where the production itself Is art. I feel this attitude gives each of my events a high quality tailored theme.
Regarding 'wearable art' – I would also love to grow this aspect of Haute Presents working closely with independent designers in collaboration with my artists. I am seeking to break the boundaries of engaging with art and fashion is the other true passion of mine. Plus, what is more personal than being adorned in these very beautiful images?!
Why did you stop organising frequent exhibitions and having a permanent showroom?
I had a gallery space for two years in a wonderful location. It truly was a gift and there are so many incredible memories with that space; if walls could talk! We had fire shows, clowns, burlesque elves, a naughty Santa installation to a pop up doll stripper routine as well as more conventional shows that showed off a diverse range of contemporary talent. Owning a gallery was never the plan, it was an opportunity that arose that I couldn't ignore. The essence of Haute Presents is to step outside the traditional way in which one perceives art and bring to it to those people who would not normally step into an art gallery. This is why I love Pop-ups, I love the Vernissage, the party, the spectacle.
Berlin is poor but sexy. What about London? You didn't want to establish Haute Presents there?
London holds a dear place in my heart as I grew up and studied there. However, following my studies, I had no desire to continue staying there; I felt a pull towards Berlin which has now become my home. I love the raw beauty of Berlin where the creativity is tangible, it has a way of connecting people and making projects coming into fruition in the most hilarious and odd circumstances. I met one of my clients, Julianna Bass, a New York designer in a drag queen bar complaining about the lack of sequins in Berlin. This led to her making me a gold sequin tuxedo and we've been friends for three years now, collaborating ever since! How we met is something that only really seems to happen in Berlin. Peoples lives collide here in the most spectacular of ways.
Art and entertainment, how does it go together? Does art have to entertain nowadays?
Art doesn't necessarily have to entertain and it very much depends on what you are showcasing or representing. The core of Haute Presents has been a celebration and with that comes a spectacle, a means to regale the guests past the white cube exterior.
What do you expect from a perfect tailor-made event?
There is never a perfect tailor-made event, I learnt that very early on! Putting on a show is definitely not a one-man effort. The run-up to a show is always met with hurdles. I always use the phrase (perhaps more for my sake) that the worse the dress rehearsal, the better the show! For a successful opening, my own recipe is: good art, great people, a fantastic look and a fully stocked bar with funk-tastic musical beats greeting guests with a smile.
Describe your customers…
I love my customers dearly. We have a huge range from young children who are always intrigued by the whimsy of it all. I have older clientele who at first were rather bemused but then jumped right on board as there is an old school decadence in how Haute Presents operates. My customers are often first time buyers who fall in love with what they purchase and continue to back the artists throughout the course of their careers.
Where do you see the future of the art and design scene in general? Trends, challenges, expectations, future prospects?….
Art and design has danced around each other and is forever intertwined. We held a book launch for New York Times Bestseller E.P. Cutler's book Art +Fashion: Collaboration between the Icons' which is a fascinating deconstruction of the relationship between these two worlds throughout the last 50 years. I can only see that relationship deepening and I am excited to see where that goes.
Another thing I see happening is the impact of technology in art. The use of iPads, virtual reality and augmented reality in art is extremely exciting. Adam Butcher's digital portraits on an iPad through Skype are really pushing boundaries when it comes to exploring virtual interpersonal connections, encouraging us to question the physical relationship between artist, subject and viewer.
Do you have a vision, bigger than Haute Presents?
Berlin is my home and my base, but my vision is more global. Bringing the flair of Haute Presents to other locations throughout the world is the next step, but I see myself living and working under the guise of Haute Presents for a while as the brand continues to grow and thrive!
Dear Maxine, thank you so much for this interview!
Of course, it has been an absolute pleasure!