CORONA STORIES – LEARNING FROM THE CRISIS FOR THE NEXT ONE
Price: 10 €
How do you personally deal with the Corona crisis? How was Corona (so far) for you? What has changed in your life since then, in your attitude towards life, in your work? What did you learn for life from the Corona crisis? This emotional book brings together the very personal coronavirus fates of 22 authors who couldn't be more diverse. These stories are the unadulterated result of a public call for proposals. They could be infinite, because each of us has a story to tell and they depict what we do not learn from the media. We will certainly remember these stories in the time after Corona.
22 autors, 23 stories
Contributors:
Paulina Tsvetanova, Hristo Dishev, Friederike Rohse, Peter Schlangenbader, Tania Becker & Christoph von Falckenstein, Daniel Kujawa, David Stechern, Johannes Rehmet, Hubertus A. Jonas, Paraskewa Nikoltschewa, Pola, Maria Veleva, xhristin, Falko Hennig, Mona Sara, Rinetta Klinger, Sirie King, Uli Strobl, Petra Owen, Marcus Zisenis, Stefan Höppe and some anonymous authors…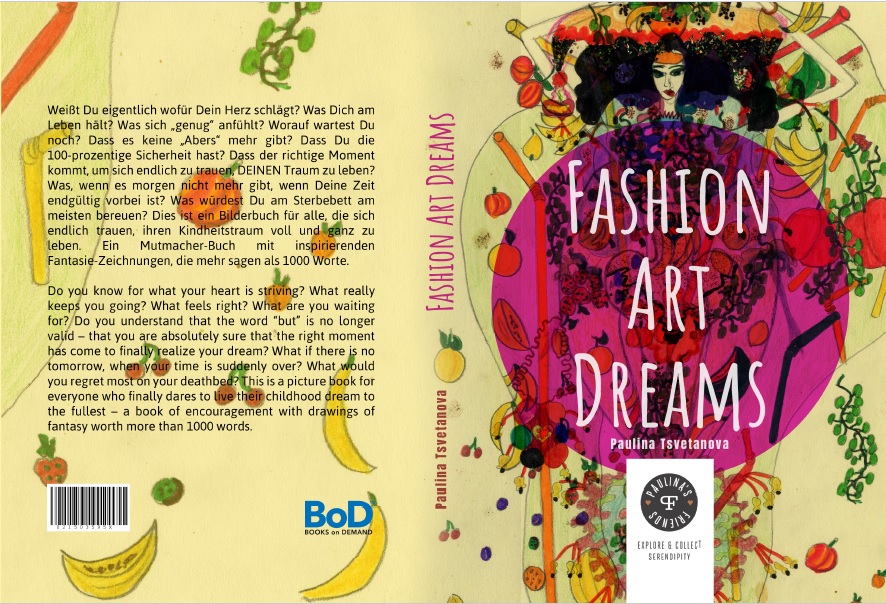 FASHION.ART.DREAMS 
ART BOOK! Ca. 300 colored, high-quality images of wearable avantgarde concept couture. Printed on 120 g premium brilliant paper, textured cover
Price: 69 € (special offer: 1 signed original art piece + 1 book: 120 Euro) 
Do you know for what your heart is striving? What really keeps you going? What feels right? What are you waiting for? Do you understand that the word "but" is no longer valid – that you are absolutely sure that the right moment has come to finally realize your dream? What if there is no tomorrow, when your time is suddenly over? What would you regret most on your deathbed? This is a picture book for everyone who finally dares to live their childhood dream to the fullest – a book of encouragement with drawings of fantasy worth more than 1000 words.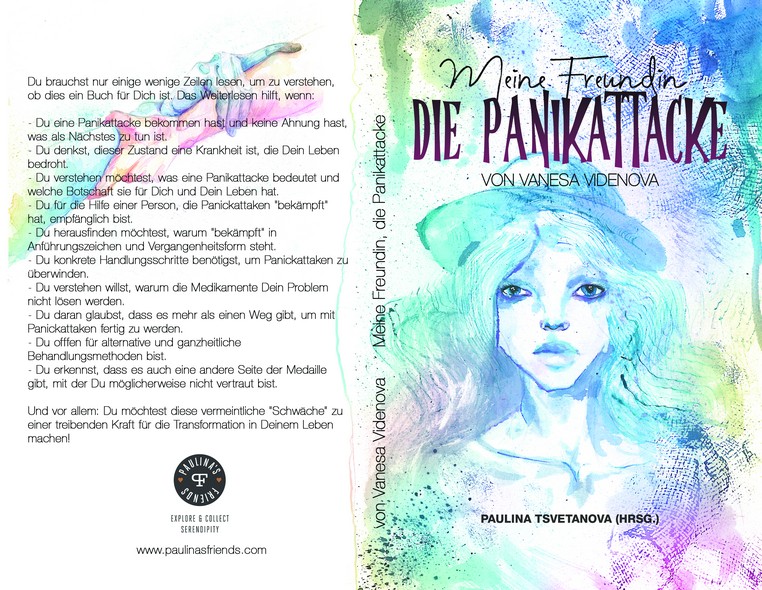 MY FRIEND, THE PANIC ATTACK
Are you highly sensitive and feel more than you can process yourself? Is it hard for you to set boundaries and protect yourself because everyone out there is good? Do you often notice the stress in your body only through psychosomatic symptoms? Do you have absurd, panicky fears that often take complete control of your world? Your existential fear takes different forms? This book grabs us with its lively Balkan language and humor. The author Vanesa Videnova tells her personal examination of the panic attacks in a simple, direct and unbiased manner and gives very specific, practical tips. Vanesa is a well-known Bulgarian Youtube blogger, astrologer and spiritual coach. The publisher Paulina Tsvetanova is a successful entrepreneur: author, encourager, fashion designer. She herself suffered from anxiety disorders and panic attacks for several years. Paulina only got a grip on this when she could no longer do anything except give in to life, despite all adversity. When she gave up fighting with her body and stopped looking for the ultimate solutions to fight her fear. When she made fear her best friend. The fatalistic confrontation with one's own death gives the reader a lot of courage for an authentic, self-determined existence. What is it worth living for? – is the key question behind this guide. Paulina has voluntarily translated "My friend, the panic attack" from Bulgarian into German and published it with aiming to give German panic friends strength, courage and confidence.
Price: 9,99 €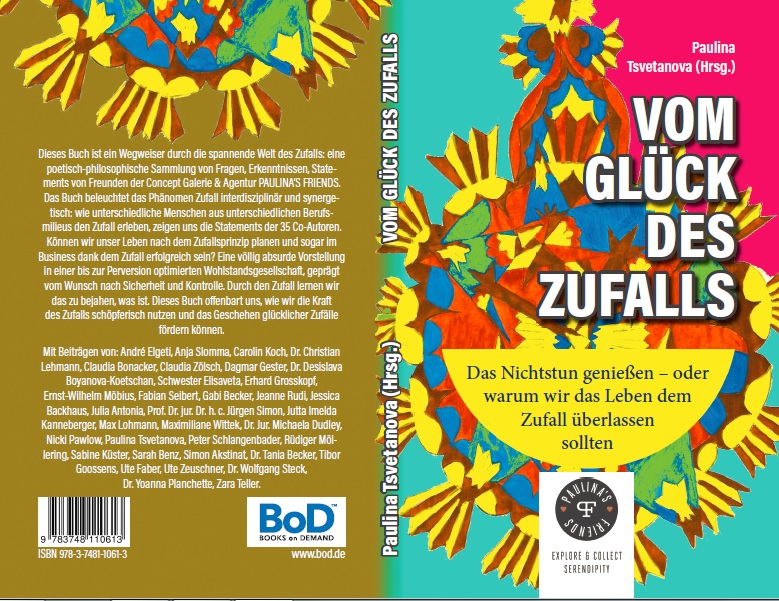 The luck of chance. Enjoy doing nothing or why we should leave life to chance
The success principle behind the Serendipity Store PAULINA'S FRIENDS – flirting with chance!
This book is a guide through the exciting world of chance: a poetic-philosophical collection of questions, insights, statements from friends of the concept gallery & agency PAULINA'S FRIENDS. The book illuminates the phenomenon of chance interdisciplinary and synergetic: how different people from different professional milieus experience chance, shows us the statements of the 35 co-authors. Can we plan our lives randomly, and even succeed in business thanks to chance? A completely absurd idea in a society optimized to perversion prosperity. By chance, we learn to say yes to what is. This book shows us how we creatively use the power of chance.

About the author:
Paulina Tsvetanova is an artist, fashion designer, gallery owner, curator and author of Bulgarian origin. She graduated in Art History, Philosophy, Christian Archeology & Byzantine Studies and Cultural Management. Paulina worked successfully for many years in the cultural industry, before she started her own business in 2016 with her own company PAULINA'S FRIENDS. The creative agency & gallery in Berlin-Mitte Art & Design of international talent as well as the own fashion label. It is always about essential life issues and value creation. The random shop is a playground for synergetic network meetings and special events. Happy coincidence is the key to success and the essential life and company principle of the Wunderkammer PAULINA'S FRIENDS: www.paulinasfriends.com
The co-authors:
André Elgeti, Anja Slomma, Carolin Koch, Dr. Christian Lehmann, Claudia Bonacker, Claudia Zölsch, Dagmar Gester, Dr. Desislava Boyanova-Koetschan, Schwester Elisaveta, Erhard Grosskopf, Ernst-Wilhelm Möbius, Fabian Seibert, Gabi Becker, Jeanne Rudi, Jessica Backhaus, Julia Antonia, Prof. Dr. jur. Dr. h. c. Jürgen Simon, Jutta Imelda Kanneberger, Max Lohmann, Maximiliane Wittek, Dr. Jur. Michaela Dudley, Nicki Pawlow, Paulina Tsvetanova, Peter Schlangenbader, Rüdiger Möllering, Sabine Küster, Sarah Benz, Simon Akstinat, Dr. Tania Becker, Tibor Goossens, Ute Faber, Ute Zeuschner, Dr. Wolfgang Steck, Dr. Yoanna Planchette, Zara Teller.
Price: 17 €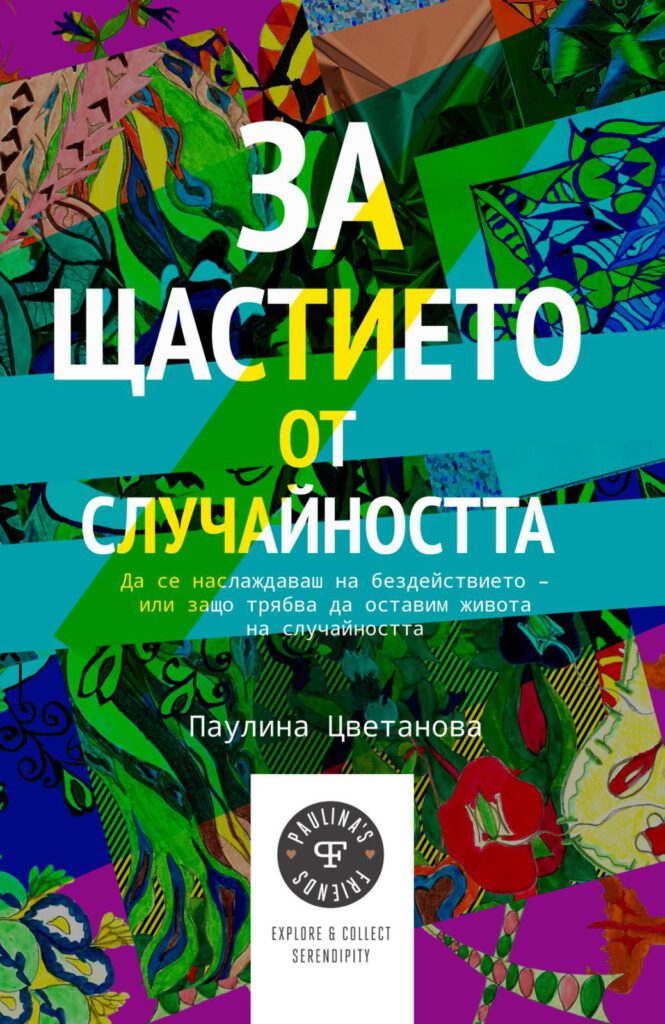 За щастието от случайността.

Да се наслаждаваш на бездействието – или защо трябва да оставим живота на случайността
Тази книга е пътеводител из вълнуващия свят на случайностите: поетично-философска колекция от въпроси, прозрения, изложения на приятели на креативната агенция "Приятели на Паулина работилница на случайността" – Kreativagentur PAULINA'S FRIENDS Zufallswerkstatt. Книгата осветлява интердисциплинарно и синергетично феномена "случайност": как различни хора от различни професионални среди изживяват случайността ни показват изложенията на 35-те съавтори. Можем ли да плануваме живота си на принципа на случайността и дори да сме успешни в бизнеса благодарение на случайността? Една напълно абсурдна представа в едно оптимирано до перверзия материално общество, белязано от желанието за сигурност и контрол. Чрез случайността се учим да казваме "да" на това, което е. Тази книга ни разкрива как да успяваме творчески да използваме силата на случайността и да подпомагаме случването на щастливите случайности.
Със статии от: Андре Елгети, Аня Слома, Каролин Кох, д-р Кристиан Леман, Клаудия Бонакер, Клаудия Цьолш, Дагмар Гестер, д-р Десислава Боянова Кьочан, сестра Елисавета, Ерхард Гроскопф, Ернст-Вилхелм Мьобиус, Фабиан Зайберт, Габи Бекер, Жан Руди, Йесика Бакхаус, Юлия Антония, проф. д-р ю. н. д-р х. к. Юрген Зимон, Юта Имелда Канебергер, Макс Ломан, Максимилиане Витек, д-р ю. н. Михаела Дъдли, Ники Павлов, Паулина Цветанова, Петер Шлангенбадер, Рюдигер Мьолеринг, Сабине Кюстер, Сара Бенц, Зимон Акстинат, д-р Таня Бекер, Тибор Гоосенс, Уте Фабер, Уте Цойшнер, д-р Волфганг Щек, д-р Йоанна Планшет, Зара Телер.
Price: 17 €
ORDER THE BOOK IN BULGARIAN: hello@paulinasfriends.com