In our online magazine we discuss everything which inspires us and our friends: exciting stories and new perspectives on art, esthetics, lifestyle, authentic personalities, companies, thrilling events, high-class products. Everything that makes life enriched and enjoyable. Actual reports, portraits, features, reviews.
You are interested in having an editorial article? Please contact us and send us your ideas.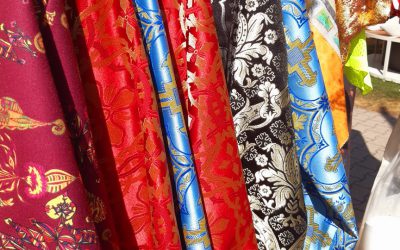 WEARABLE HAUTE COUTURE ARTFASHION & TEXTILE DESIGN BRAND FROM BERLIN. FOUNDED 2018 BY ENTREPRENEUR, ART HISTORIAN, AUTHOR AND STYLE INNOVATOR PAULINA TSVETANOVA. HER CHILDHOOD DREAM OF BEING A COUTURIER CAME TRUE. ONE OF A KIND STATEMENT CREATIONS, EMBODYING AN UNIQUE EMOTIONAL STORY. UNISIZE. UNISEX. UNISEASON. UNIQUE. AGELESS. WEARABLE ART. FLAMBOYANT MIX OF PATTERNS, COLOURS, EVOLVING SHAPES & TEXTURES. EXUBERANT REMISING OF CULTURES. POWERED BY SERENDIPITY. BASED ON HANDPAINTED ABSTRACT VIBRANT STATEMENT PATTERNS. RARE HIGH QUALITY NATURAL ECO FRIENDLY FABRICS. DIGITALLY PRINTED. SLOW & FAIR FASHION. HANDMADE IN SMALL WORKSHOPS IN EUROPE. SUSTAINABILITY. AWARENESS FOR CRAFTSMANSHIP, ARTISAN & WORLD CULTURAL EXPRESSIONS. SYNERGY OF TRADITIONS & HIGHTECH. INDIVIDUALITY. EXTRAVAGANCE. BRAVERY. MAXIMALISM. ANARCHY. UNCONVENTIONAL STYLISTIC EXPERIMENTS. BEYOND BORDERS. MULTICULTURAL. ETHNO. AVANTGARDE. DISTINCTIVE. INVENTIVE. ECLECTICISM. PATCHWORK. MIXANDMATCH. PERSONALISED. CUSTOMIZED. TAILOR MADE. EACH HUMAN BEING IS UNIQUE. EACH ITEM IS A PIECE OF ART, LIKE EVERY HUMAN BEING HAS A PERSONAL DISTINCTIVE STORY. 
read more