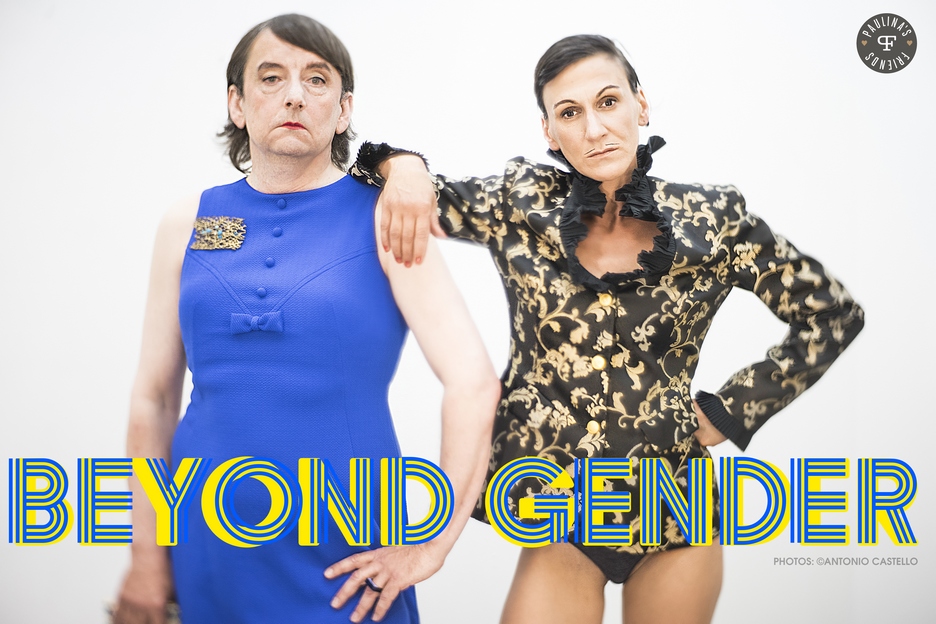 PLAY OF BEING
Concept: Paulina Tsvetanova
Photos: Antonio Castello
Make-Up: Benedikta Ársælsdóttir
Androgynous, unisex, transgender – all of this is totally hyped. Trans-aesthetics are very popular and have already penetrated many societies. Transgender celebrities, models, performance artists are now available. Is it just another trend? Is identity depending on gender or sexual orientation? Does fashion change one's own gender perception? Don't we let us define too much about gender? Does fashion help us discover our true selves?
Does our personal identity have anything to do with gender and sexuality?
This photo series are the result of a photo shooting. The models have applied for an open call. It was originally aimed at transgender, intersexual, bisexual, homosexual, as well as heterosexual people, who live their identity independent of their gender and sexual orientation. These portraits show strong personalities beyond the sexes that were shaped by their authentic stories.
With this challenging project we want to provide a framework for the playful handling of gender stereotypes. Through the deliberate rapture from the classic-normative gender balance, we want to stir up and question our perception of the gender identities. The aim is not only to raise awareness for this taboo topic and promote the social acceptance and equality of people who live between the sexes. Furthermore its about celebration of beauty and identity beyond mental barriers, fears and reservations, and finally also beyond gender definitions.
There are as many gender as there are people. Your own gender range is free, like our lifestyle. We can create and rediscover our personal gender identity every day. For instance through fashion: Fashion transformes, liberates unfoldes. Fashion exists independently of gender identities. Its all about the human being behind it.
In addition to the project Beyond Gender there will be a photo exhibition taking place 12.10. – 6.11.2017 in the Concept Gallery PAULINA'S FRIENDS. Opening on Thursday, October 12, 6 pm – 9 pm.
In addition, a print catalog with personal statements of the portrayed people, has been published.
Many thanks also to Gabi Becker for the documentary of the making of "Beyond Gender":
And here a selection of the portraits (both fotoprints, as well as photos in the catalog are different!)
That a man has to be masculine in order to be a true man, and an attractive woman feminine – that is soooo old-fashioned! What do these qualities mean? They are the epitome of the male and female par excellence. The assignment is easy: purposeful and enforceable versus sensuous and sensual? All right? It is high time to draw these drawers up and thoroughly through. We all have everything in us. In our own unique form. Combined with our feelings, the spectrum of human characteristics is almost endless. The challenge is to step out of the rigid social conceptions and find out for yourself who and what I am. So, where did I record ideas about my husband or wife being not fit for me? How can I live only what I really am? The concept of the universe is based on expansion and resolution. Even if we have forgotten it, but we are part of it. I am sure whatever has created us wanted to express as varied and inexhaustible a spectrum as possible, indeed, with all kinds of sexual orientation. When we play with fabrics and fashion, we express ourselves – unconsciously, thus gaining access to our true being. BEYOND GENDER plays exactly with this idea. The joy of being, regardless of gender and sexual orientation. Many people today believe that there is no such thing as "male" and "female" qualities. You can even study gender studies. From a spiritual point of view, a soul is sexless, and a healthy person has made both poles self-aligned and balanced – a woman so strong and a man also devoted. To what extent is the game with the polarity really only a game and to what extent the expression of our essential being?
THE LAST SUPPER – a theatrical staging